Volunteer
The Westerville Sunrise Rotary Club is seeking volunteers to help with the Field of Heroes. In addition to the thousands of expected visitors who simply wish to walk amongst the flags, we will hold numerous programs and take onsite orders throughout the weekend; all these activities are staffed completely by community volunteers.

As the first field of its kind in Central Ohio, the Field of Heroes has become a truly unique and inspiring event. More than two hundred volunteers are required to run the Field of Heroes each year. Volunteer opportunities range from field greeters and order-takers to overnight security personnel. We assure you that you will find it a truly rewarding experience.

In addition to organizing and running the Field of Heroes for the last nine years, the Westerville Sunrise Rotary Club has organized the Chilly Open for 22 years. As such, we know what it takes to for an event of this scale. A partnership of community organizations and businesses will come together to staff the event and to underwrite some of the expenses of the annual Field of Heroes event. We look forward to your support.

Please click on the link below to register for the time slots and jobs that you would like. When finished, be sure to complete the process by clicking "sign up now" on the last page of the form. You will receive an email reminder two days before your selected shifts.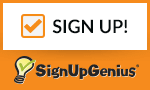 If you have any questions or concerns, please contact Helka Gienapp and Bryan Wagner at
fohvolunteer@gmail.com.
VolunteerOpportunities
Field Set Up
Friday, May 25 9:00 am - 1:00 pm
Field Operations
Friday, May 25 Noon - Midnight
Saturday, May 26 8:00 am - Midnight
Sunday, May 27 8:00 am - Midnight
Monday, May 28 8:00 am - Noon
Field Take Down
Monday, May 28 Noon - 5:00 pm